PhysioSource Clinical Staff
---
Joanne Sherman, PT
Joanne is the Director of Physical Therapy at PhysioSource.
She received her Master of Physical Therapy degree from the University of Michigan in 1994. Prior to opening PhysioSource in 2003 she worked as a physical therapist in a variety of clinical settings including inpatient acute care and outpatient rehabilitation, geriatrics and orthopedic/sports medicine. Her primary interests are aquatics, outpatient orthopedic, and industrial rehabilitation. In her 24 years in the Toledo area, she has developed a reputation as an outstanding physical therapist in this community. In her free time she enjoys spending time with her husband and children, traveling, and spending as much time as possible at their cottage on Devils Lake.
---
Colleen Duncan, RKT
Colleen is a registered kinesiotherapist, Office Manager, and Director of Community Relations and Marketing for PhysioSource.
She received her Bachelor's degrees in Kinesiotherapy and Human Performance at the University of Toledo in 1983 and has been a charter membeer of the PhysioSource team since 2003. Colleen has significant experience in musculoskeletal rehabilitation and has practiced in the field of outpatient rehabilitation for over 35 years. Her past experiences include the development of aquatic rehabilitation programs, outpatient co-treatment of orthopedic patients, and developing/instructing back education classes at numerous industrial sites. At PhysioSource, Colleen is a patient advocate and liaison for the patients to assure the highest quality of care in an efficient effective manner. In her free time, Colleen enjoys time outdoors exploring National Parks, skiing, and gardening. Colleen and her husband enjoy traveling to spend time with their three adult children.
---
Daniel McCarthy, PT, DPT, OCS
Board certified in orthopedic physical therapy.
Daniel is a staff physical therapist who specializes in orthopedics, sports, and functional movement. He is one of only a few therapists in the Toledo area with certifications in Functional Movement Screen and Selective Functional Movement Assessment.
These tools help him to identify movement dysfunctions and prescribe appropriate corrective exercises to improve movement quality. He also has a special interest in educating and prescribing injury and fall prevention programs. Daniel enjoys working with all age groups treating a variety of conditions. Daniel also works as a soccer referee for local youth, high school, and adult group. In his spare time, Daniel enjoys traveling with his wife throughout the US and World.
---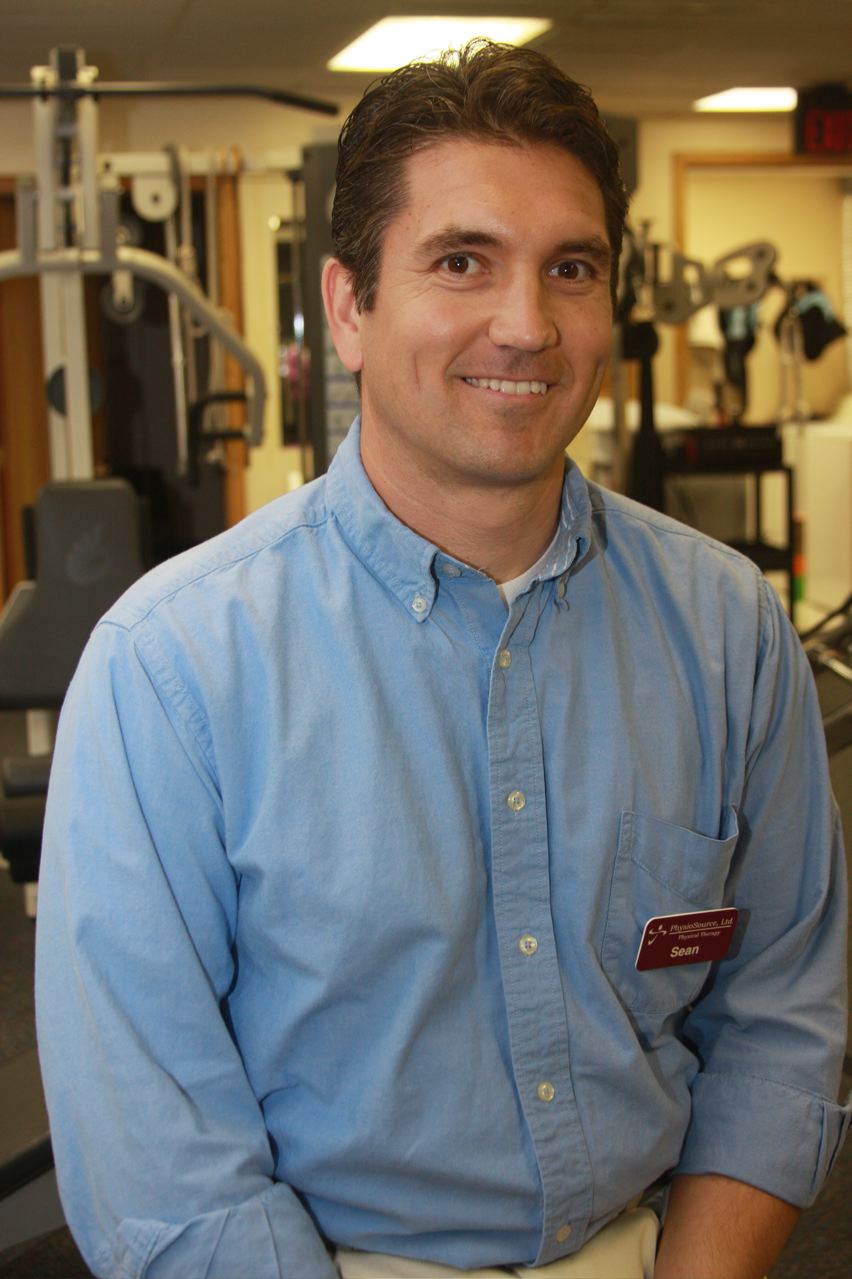 Sean Fitzpatrick, PTA
Sean graduated from Denver Technical College (1996) in Colorado where he lived and worked before moving back to the midwest. Sean's background is well rounded with experience working in a hospital-based system working with orthopedic patients, amputees, and neuro/spinal cord injuries along with working with home health patients. In the outpatient setting, Sean has specialized in orthopedics, treating patients both on land and in the aquatic environment. In conjunction with working at PhysioSource, Sean has been employed since 2014 with the Waterville Fire Department as a firefighter/EMT. In his free time, Sean likes spending time with his wife and kids. He enjoys outdoor activities and learning more about his faith. Sean has been a valuable member of the PhysioSource team since 2006.
---
Angela Smith, PT
Angela graduated from The University of Toledo in 2001 with a Bachelor of Science Degree in Physical Therapy, completing Physical Therapy School at The Medical College of Ohio. She has over 17 years experience practicing in the outpatient orthopedic setting, in both hospital based and the private practice.Her continuing education has focused on The McKenzie Method of Mechanical Diagnosis and Treatment, The Mulligan Concept, and manual therapy clinical skills.
Angela joined the PhysioSource Physical Therapy staff in 2013 after returning to the Toledo area where she was raised. Angela finds great reward in assisting her patients achieve their goals and improve their quality of life, while attempting to make physical therapy a comfortable and enjoyable experience for the patient. In her free time, Angela enjoys spending time with her family and friends, and is an avid sports fan having grown up participating in athletics.
---
Carolyn Heidelberg, Certified Medical Biller
At At PhysioSource, Carolyn is our Medical Billing and Coding Specialist. Carolyn is a valuable team member keeping up with the ongoing changes in the medical billing world. She received her medical billing certification in 2000 and her Certified Professional Coder credential in 2006 through AAPC. She is an excellent resource and advocate for our patients with respect to their insurance billing. Carolyn has been a loyal team member of PhysioSource since 2003. In her free time she she loves creating memories with her friends, family and two beautiful grandchildren.
---
Cathy Hauptman, PTA
Cathy received her Bachelor's degree in Arts and Sciences from Vanderbilt University in 1997. After Spanish at St. Johns Jesuit High School in Toledo for almost ten years, she embarked on a second career in Physical Therapy, graduating from Owens Community College with a degree as a Physical Therapy Assistant. Cathy joined the PhysioSource Physical Therapy staff in July of 2017 and has greatly enjoyed assisting the patients and working with the experienced and innovative team. She has also helped to develop and implement an "Injury Prevention Program" at local companies to help employers prevet and identify workplace injuries. In her free time, Cathy enjoys spending time with her three children and family. She also enjoys traveling, working out and, more recently, painting.